posted by Agatha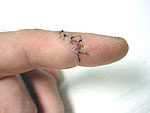 Last evening (ie. Saturday night) after the Ikea Incident , I had an accident that involved running with scissors that resulted in my index finger looking like the above photo. It was an EMERGENCY.

I thought about calling an ESI Emergency Meeting, but instead, I called Coyote, who I know is level-headed in these kinds of situations. He very kindly drove me to the ER while I held my bloody finger in a towel in the passenger seat. Some people gave us strange looks when they saw Coyote's pointy little snout peering over the steering wheel. However, he seemed to fit right in with the motley crew in the ER.

In the ER, we waited and waited and waited. We watched the hockey game and commented on how ridiculous the 15-second-delayed closed captioning was, and how annoyed we'd be if we were hearing impaired. When the hockey became tiresome, We watched the deadpan-faced intake nurse interview patients: "You slid off the roof?" "How many feet?" "How did you land?" "On your feet?" Then, we commented on the fellow who walked in with a bottle of coke in a mixing bowl, and agreed that it is a myth that Coke is good for nausea.

Finally, they called my name and I followed a series of yellow dots to Urgent Care where I waited for another couple of hours in an examination room. I walked around a bit and checked in on some of the patients. My wounded finger was not considered to be top priority. The guy who fell off the roof spent some time in a stretcher in the hall after a fainting spell. The barfing guy was just noisy and annoying so I stayed away from him.

Close to midnight, a sixteen-year old intern named Matt came in to examine my finger. He said, "Hmmm. I don't know if you need stitches or not. These are the kind of decisions I guess I should be making myself." I assured him that it was ok if he wanted to get another opinion. He brought in an old geezer doctor who said to Matt, "Yes, definitely stitches. Three of them. A digital square. Do you know how to do that?" Matt said he did. Then, when the doctor left, Matt confessed that my index finger was the first he'd ever stitched. He added that he was proud of the work he was doing and was excited about how the stitches were turning out. I congratulated him. Then, we talked about the tetanus shot I would get later, and he explained what "lockjaw" was, which just sounds nasty.

Finally, I was ready to leave. Coyote had his nose in a newspaper, and didn't complain about the wait.

Lessons learned: 1) Coyote is good in an emergency. 2) Don't run with scissors.